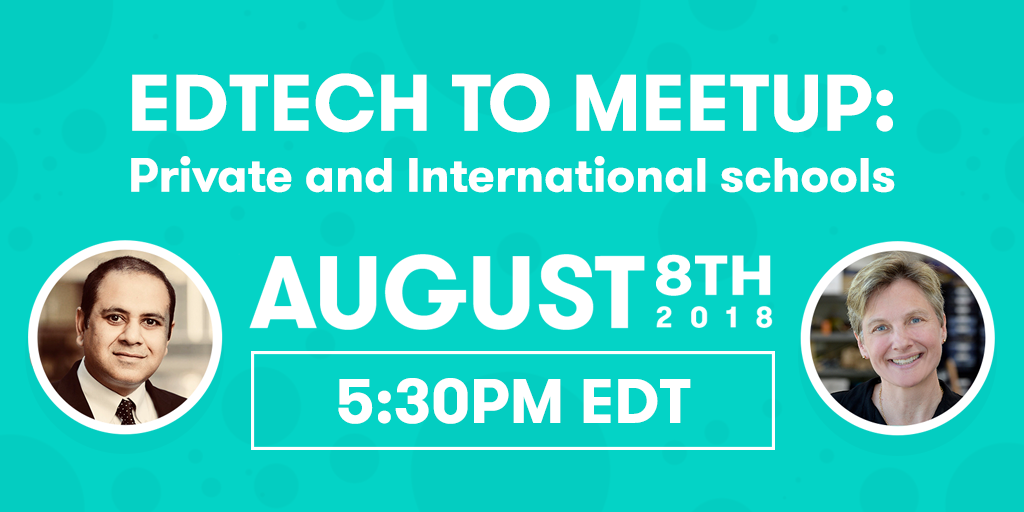 On August 8th, Peekapak hosted an EdTechTO meetup for EdTech leaders in the Toronto area. The focus of this month's discussion was on private schools and international schools. We were joined by special guests Lavish Bangia of MaRS Discovery District and Andrea Fanjoy of Kingsway College School. We had an insightful conversation around what EdTech tools various private schools are using, and what problems some of these schools still have with using various technology solutions. Here are some of the key highlights from the event.
EdTech tools need to provide real value to students
When deciding on which tools to use, Andrea Fanjoy explained that "whatever brings real value to the needs of the kids is worth it to us." She spoke about how at many schools it is a challenge to meet the differentiated needs of all of the students. An EdTech tool is incredibly valuable if it is capable of solving this issue by offering means of personalization and adapting to the needs of each individual student.
Lavish Bangia expressed that for many international schools, there is a hunger to associate with North American curriculum and brands. "Canadian education carries a lot of capital across the world," says Bangia. He also emphasized the big challenge that international schools have with handling the volume of students and any tool that helps to augment the administration process is incredibly valuable, as well as any platform that offers strong curriculum enhancement.
Concerns over screen time a big barrier to implementing new technology
Barriers to bringing in a new technology solution were discussed and the big ones mentioned were cost and concerns over how much time students are spending in front of screens. While many private schools do not have the same financial barriers that a public school might have, there are still many, especially internationally, that do not have excess funds in order to implement new educational technology programs and tools into the curriculum.
Furthermore, Fanjoy discussed the concern that her school has with young children spending far too much time in front of screens. "We must be careful and make sure there is still face time, or even tech tools that inspire more socialization," expresses Fanjoy. Her and Bangia both felt strongly that EdTech tools are great, but the concern over excess screen time does give reason to want to consider how much technology is used in the classroom.
EdTech has come a long way, but we still have a long way to go
Going forward, both Bangia and Fanjoy think that there is a lot of improvement and innovation coming in the world of education technology. Bangia believes that Artificial Intelligence (AI) will be key as it is currently starting to change the face of technology as a whole. As well, Bangia believes that since technology comes naturally to the current generation of students, the friction to accept technology in the classroom and on the whole will decrease as the children of today become the educators of tomorrow.
Fanjoy is very curious to see what research comes in terms of determining the appropriate amount of screen time for children to be having every day. She is also quite keen on finding new ways for technology to help facilitate learning and socialization. "Tech tools that help inspire real authentic learning, getting kids out of a textbook world, unleashing their potential to engage in real problems is possible, but no one has taken advantage yet," says Fanjoy. It will be exciting to see how classroom technology develops and grows moving ahead.
Join us for our next EdTechTO event!
Peekapak hosts regular meetups for EdTech leaders in the Toronto area. If you are interested in joining our invite list, send a message to hello@peekapak.com and we will be sure to invite you to future events! Our next meetup will be on September 19th and we will be having a fireside chat with John Carbrey, founder of SharpSchool.
Looking for a technology-based platform to teach empathy and other social-emotional skills for elementary aged children? Look no further than Peekapak. Peekapak is an award-winning, social & emotional learning (SEL) platform that leverages engaging lessons, stories and digital games in the classroom and the home. Developed by education experts, Peekapak's innovative curriculum teaching skills like gratitude, empathy, and self-regulation within literacy, reading, and writing based learning curriculum.