We're so excited that you'll be one of the first classrooms to use myPeekaville, our online learning game! The magic of myPeekaville is that each of your students has their own account to explore the world of Peekaville and you'll be able to track student progress.
myPeekaville supplements the lessons found on www.peekapak.com and, therefore, requires some additional steps to setup.
To get started with myPeekaville: 
1. Class Set Up: In terms of getting your class set up, if you (or your school/district) haven't already provided your class roster, we'll need your class roster data to set up your classroom for you.
If you're not sure,  – if you don't see a class set up under classroom setting in your www.peekapak.com account, you don't have a classroom set up and you should contact us at hello@peekapak.com.
2. Parent Consent: To provide access to students and ensure we're in compliance with student data policies, we need to ensure there is parent consent. To  get this consent:
a) Visit Peekapak.com, click on 'Students + Parents' and click 'Download Consent Letters'
b) Once you download the letters, print them and give them to your students to pass on to their parents. Each letter includes a URL and an unique code for the parent to enter and provide consent.
Once parents have accepted, you will see an update on the 'Students + Parents' tab. For a more detailed step by step guide, click here. 
3. Student Login Information: Once your classroom is set up, log in to www.peekapak.com and click on 'Students + Parents' to see your class list. Here you'll be able to see each of the student's myPeekaville login name: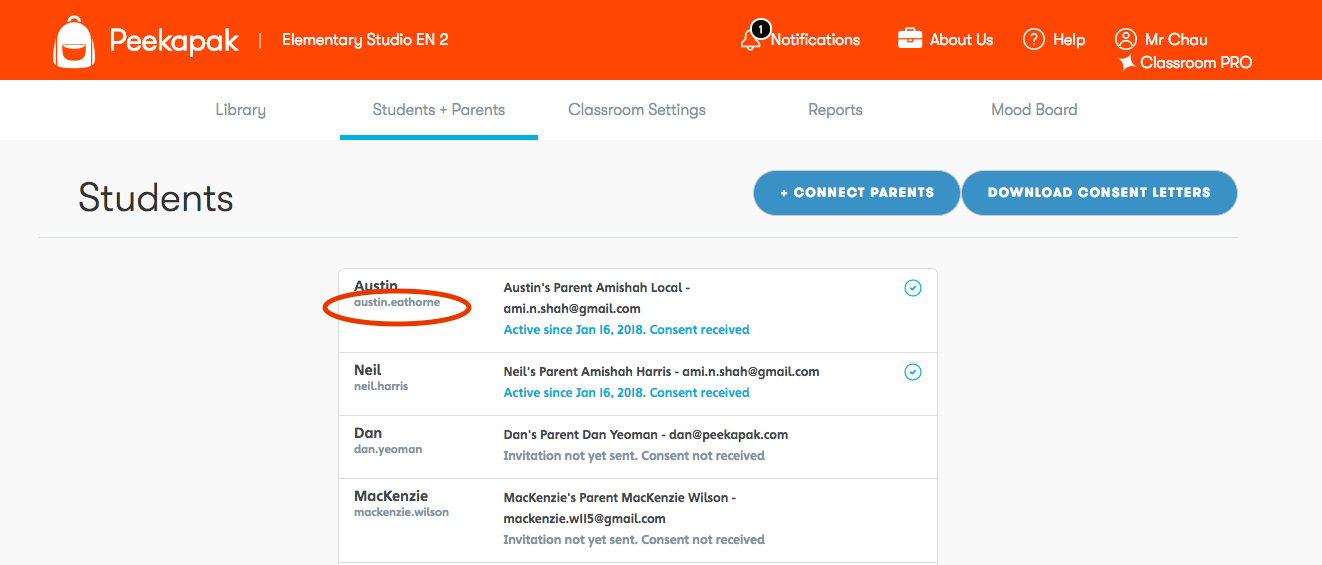 Typically the login will be:
a) What you / your administrator provided as the login OR
b) If we didn't receive a pre-determined login name, we would use a combination of their firstname.lastname and there could be a number included if they have a common name.
Note: If you are using Peekapak for the second year, make sure you have selected the most recent class, by clicking on the drop down menu beside the class name in the top menu (i.e. in the above example, it would be beside "Elementary Studio EN 2"). You can then check under "Students + Parents" to see if your current class is listed and the student login names.
4. Student passwords: If you or your district has provided a password for each student, we have set that password for the student. Otherwise, the default password is sent to you via email from the Peekapak team.
5. Getting into myPeekaville: For you or your students to access myPeekaville, visit www.mypeekaville.com to login.
A couple of things to note:
We hope you enjoy myPeekaville and if you have any questions or suggested improvements, please contact us at hello@peekapak.com.
Your friends at Peekapak!
The following two tabs change content below.
Ami Shah is a Co-Founder & CEO of Peekapak, an edtech startup that teaches social-emotional learning skills like self-regulation, empathy and team work in the class and home. Peekapak is backed by; Silicon Valley based accelerator, Imagine K12, the Edtech vertical of Y Combinator and; the Unreasonable Institute.