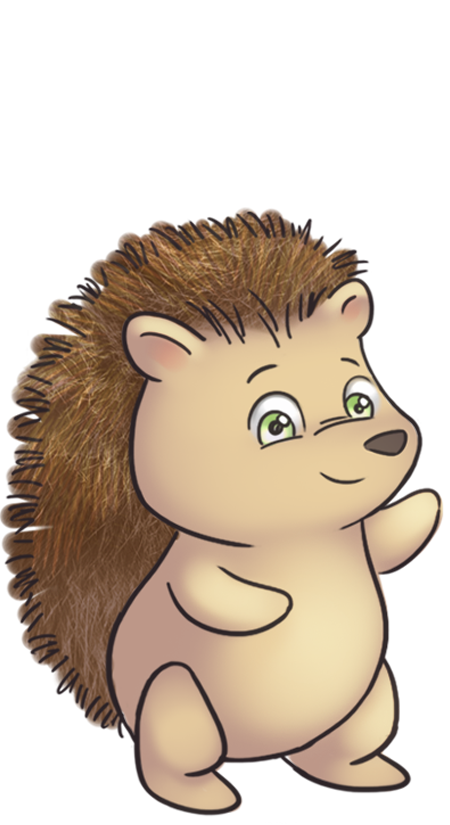 To start our summer of sharing, here's a closer look at Leo the Hedgehog, who is featured in all Peekapak stories.
Though quiet, Leo the Hedgehog is the heart of the Peekapak Pals and when he says something, it packs a punch and his friends are wise to listen. Others can often tell how he is feeling based on his dramatic facial expressions. Naturally empathetic, Leo is able to relate to others in a way that often eludes his friends. He feels a sense of responsibility over the wellbeing of his friends and often bails them out of trouble … especially impulsive Cody.
Leo loves sculpting ceramic figures and he  learns best through observation. With an inquisitive mind, he likes to take things apart and put them back together again just to find out how something works. Though he may not say much, he is a great listener and quietly sees what others may not be able to. Leo is always there to keep the peace when disagreements come up.
Some additional facts about Leo the Hedgehog:
He has 3 younger sisters – Leah, Lola, Loulou.
When he feels nervous or anxious, he uses rhymes to help him find a sense of calm.
We really hope you enjoyed learning more about Leo! If you, your child or your students want to see more of Leo in action, check out our stories online at www.peekapak.com.
Happy Reading!
---
Login to Peekapak now, or sign up for a free account here!
The following two tabs change content below.
Ami Shah is a Co-Founder & CEO of Peekapak, an edtech startup that teaches social-emotional learning skills like self-regulation, empathy and team work in the class and home. Peekapak is backed by; Silicon Valley based accelerator, Imagine K12, the Edtech vertical of Y Combinator and; the Unreasonable Institute.