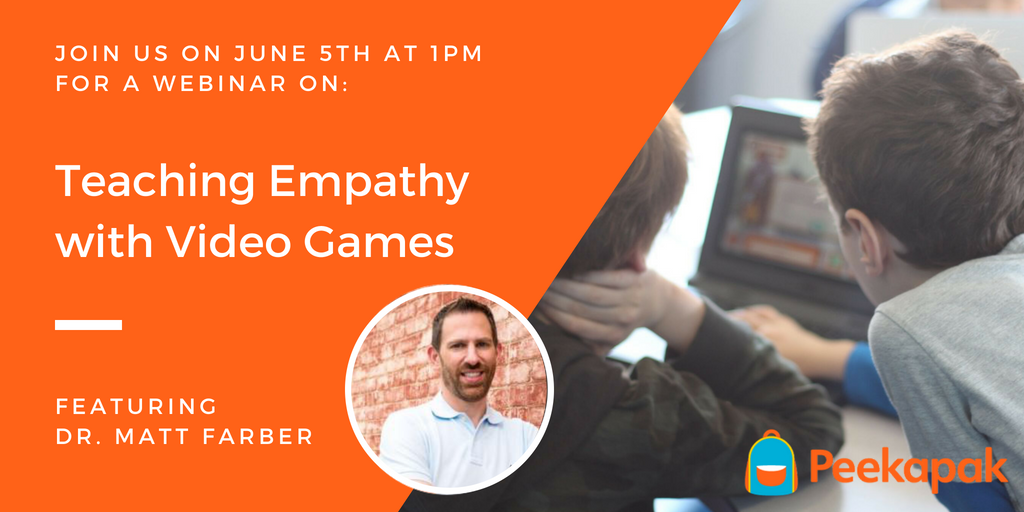 On June 5, we were joined by Dr. Matthew Farber in a discussion on teaching empathy with video games. In case you were unable to attend, here is a recording of the webinar along with some of the key takeaways, as well as some helpful resources.
Click here to view a recording of our webinar Teaching Empathy with Video Games
Teaching Social Emotional Learning (SEL) at a Young Age Leads to Greater Career and Personal Growth
Kindergarten students who score high on social-emotional skills such as empathy are four times more likely to graduate from college and two times as likely to have a full-time job by the age of 25. Just like numeracy skills or literacy skills, social-emotional skills are built up through practice, and they need to be taught effectively and adequately. It is important in an era focused heavily on testing that we do not allow the teaching of soft skills to fall to the wayside.
Video Games Can be Used in the Classroom the Same Way One Might Use a Film
Many educators are unsure about using video games as a teaching tool because they are not sure how to use them in a classroom setting. Dr. Matthew Farber suggests using video games as you would use a movie or any other special media. Students will be excited about playing a video game just as they would be about watching a film (if not more), and it provides the opportunity for teachers to make use of co-viewing and open-ended reflections. It is important to engage the students in what they are doing in these games. After playing a game, discuss as a class what the students experienced when it came to decision-making, how the game made them feel, and how they can apply what they learned in the game to other aspects of their life.
Teaching Empathy with Video Games is Incredibly Effective
There are many great video games out there that can be used as an effective teaching tool. Teaching empathy with video games can be done through the feeling of agency in a game. Video games allow students to have a deeper emotional connection with a character than other media such as books or film. iCivics is a great tool that allows students to experience historical empathy by placing them in someone else's shoes during particular situations relating to civics and law. Another excellent tool is Peekapak and the world of myPeekaville. Peekapak is an innovative online platform and personalized learning game that teaches young students important SEL skills including empathy, self-regulation and respect.
If you want to speak with the co-host of this webinar, Ami Shah, CEO & Co-Founder of Peekapak, click here to set up a time to chat.
Resources
Great Games to Teach Empathy and other SEL skills

myPeekaville: an interactive learning experience featuring the characters and stories of Peekapak that reinforces SEL skills
Spent: an online game about poverty and survival that focuses on tough decision-making
That Dragon, Cancer: an autobiographical game based on the experiences of Ryan and Amy Green about raising a newborn diagnosed with cancer

Other Resources