After keeping our distance for so long, many of us, both young and old, could benefit from a little social emotional learning (SEL). But why use SEL in your classroom? Children today represent the next generation of citizens, therefore putting an emphasis on integrating SEL into school curriculum is crucial for a more kind, self-aware and empathetic world.
What is SEL?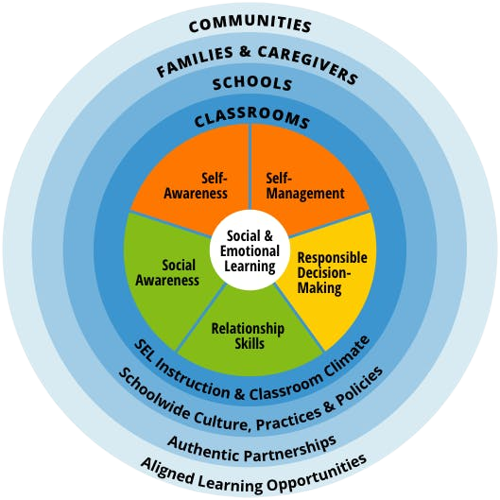 According to CASEL, SEL can be defined as to how people acquire and apply information, skills, and attitudes to manage emotions, create and maintain supportive relationships, make responsible and caring decisions, as well as develop health identities and achieve goals. CASEL is an organization committed to high standards of SEL and has established five core competencies when dealing with SEL; self-awareness, self-management, social awareness, relationship skills and responsible decision making. All demonstrated on the CASEL Wheel and how these SEL competencies are far-reaching in every aspect of people's lives. Check out Peekapak's alignment with CASEL here.
Now why is this important and how can implementing SEL in the upcoming school year be an investment in our future?
Why Use Social Emotional Learning?
Many children did not have optimal learning environments for SEL, both in the classroom and within society, in the last couple of years due to restrictions from COVID-19. We must emphasize on teaching these skills now, to build the foundation for self-respecting, compassionate, and driven adults in the future. Some of the main benefits of using SEL include:
Increased Academic Success
The development of social and emotional skills allow for greater success in reaching academic goals. In the long run, these skills have been shown to increase high school graduation likelihood and preparedness for postsecondary education (Meyer, 2021). It was also found that the academic performance of students with SEL learning is 13 percentile points greater on average than students without SEL learning (Gulbrandson, 2019).
Increased Self-Awareness and Self-Management
Self-awareness is being aware of different aspects/traits of yourself, while self-management is the ability to control your behavior. This can be controlling your emotions, thoughts, or actions. Based on research, most people feel they are self-aware, but only 10-15% fit the definition (Bremner, 2020). Many have not been taught the skills to be self-aware and so individuals gain a false sense of their skills. SEL in the classroom comes in to teach self-awareness from a young age, so self-aware adults exist in greater numbers in the future. Self-management allows individuals to take their self-awareness and convert it into the way they choose to behave.
Increased Social Awareness
Social awareness is the ability to be aware of and understand the thoughts and emotions of others. SEL allows students to learn empathy, kindness, and teamwork, creating an environment of more caring, collaborative, and understanding individuals. The development of social-emotional competencies is linked to improving achievement by 11 percentile points due to its teaching of prosocial behaviors that include social awareness (Weissberg, 2016).
SEL is a great tool that can be used in all aspects of a child's life, with its effects being seen both now and in the future. By using SEL in your classroom next school year, you are setting students up for both academic and personal successes in their lives.
About Peekapak and Social Emotional Learning
Peekapak is committed to helping children become successful, compassionate, caring, and empathetic citizens of the world! How? By teaching children important social-emotional learning (SEL) skills so that topics like gratitude, perseverance, and respect become not just something they hear about, but a part of who they are.
We strive to accomplish this by creating a company and a curriculum that makes SEL fun, easy and seamless for teachers, parents and especially children, so that kids learn without even realizing it. Peekapak's learning platform can be implemented in person, online or in hybrid teaching models, providing flexible solutions for all school districts.
Sources(s)
Bremner, C. (2020, March 3). Why is Self-Awareness Important for Leadership. The Myers-Briggs Company. Retrieved May 9, 2022, from https://www.themyersbriggs.com/en-US/Connect-with-us/Blog/2020/March/Why-is-Self-awareness-Important-for-Leadership
CASEL. (2022). What is the CASEL Framework? CASEL. Retrieved May 6, 2022, from https://casel.org/fundamentals-of-sel/what-is-the-casel-framework/
Gulbrandson, K. (2019, June 27). Trends in Social-Emotional Learning Research: What are the outcomes? Committee for Children. Retrieved May 9, 2022, from https://www.cfchildren.org/blog/2019/06/trends-in-social-emotional-learning-research-what-are-the-outcomes/#:~:text=A%20November%202018%20report%20on,from%20schools%20with%20a%20less
Meyer, D. (2021, July 16). How Should Social Emotional Learning Change Post-Pandemic. Elmhurst University Blog. Retrieved May 6, 2022, from https://www.elmhurst.edu/blog/social-emotional-learning/
Weissberg, R. (2016, February 15). Why social and emotional learning is essential for students. Edutopia. Retrieved May 9, 2022, from https://www.edutopia.org/blog/why-sel-essential-for-students-weissberg-durlak-domitrovich-gullotta#:~:text=Research%20shows%20that%20SEL%20not,et%20al.%2C%202011).