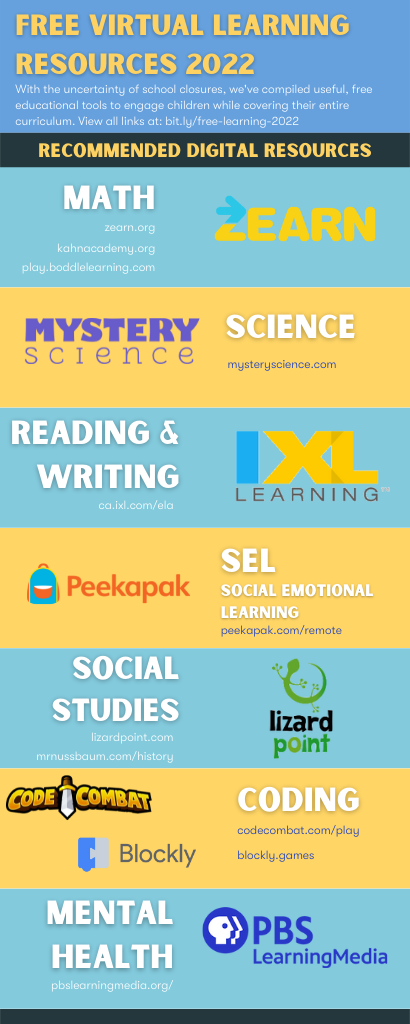 With the recent development and spread of the Omicron variant of COVID-19, many schools are shutting their doors once again. To help with this shift to virtual learning, we have put together an updated list for 2022 of recommended, free virtual learning resources to support school, students and families during this uncertain time.
Free Virtual Learning Resources For Elementary Students
Free Math Resources
Zearn:

Zearn is a free virtual learning math platform built by teachers, for teachers. It's based on the premise of students learning the same concept twice – once from the educator, and again in Zearn's researched backed digital lessons. Provides 800+ interactive lessons, comprehensive reporting and built in professional development.

Boddle:

Boddle is intended for grades K-6, with the goal to make math fun and engaging. This free virtual learning math resource leverages artificial intelligence to tailor learning content to the correct level for each student.

Khan Academy: Khan Academy has one of the best sites for free virtual learning for math with self-pacing content for students.
Free Science Resources
Mystery Science:

Mystery Science returns to our list for 2022! They continue to offer their most popular science videos for anyone to use for free. Copy and paste the links into your documents and use them however they might be helpful! They've also curated a starter set of science lessons that you can use remotely or share with parents.
Free Reading & Writing Resources
IXL

: IXL is a free online personalized learning resource for ELA. IXL provides a comprehensive curriculum for JK to grade 12, helping students master essential skills, from reading comprehension to writing strategies, through interactive questions, with built in support and motivating awards.

Newsela: Engage students virtually with thousands of texts on topics they care about most, with standards-aligned lesson supports built for ELA instruction. Prepare for virtual learning with their free access level: www.newsela.com
Evergreen: Evergreen offers a free collection of curriculum that aims to support the outdoor learning practices throughout Canada.
Free Social Emotional Learning Resources
Peekapak: Peekapak is a social-emotional learning platform that helps elementary students learn skills like self-regulation and empathy through digital stories, research-based lessons, and personalized learning games that align with required reading and writing-based curriculum. To sign up to access Peekapak's self regulation unit, click here: https://www.peekapak.com/remote
Peekapak has also created specific free virtual Coronavirus lesson plans and family activities about the pandemic. Lessons help children understand their feelings during this time, practice gratitude to our frontline workers and create their own special space at home. Learn more here: http://54.85.181.209/coronavirus-lesson-plans/
Free Coding Resources
Code Combat:

Code combat is a game based learning solution that aims to teach children computer science from an early age. It teaches both game based coding and text based coding. Their curriculum builds on student's experiences and knowledge as they progress throughout the game.

Blockly:

Blockly Games is a series of free virtual learning games that teach programming to young kids. The games are designed for children who have not had prior experience with computer programming, teaching them from the ground up. The games are in sequential order to teach skills from loops and conditionals to functions and more.
Free Social Studies Resources
Mr Nussbaum Learning and Fun

: This game based website provides activities in all subject areas, created by an educator who believed that crucial ideas taught in the classroom can be enhanced online through interactivity. It specifically provides both history and geography games, perfect for increasing student engagement in a social studies course.

Lizard Point:

Lizard Point is a great interactive tool to help elementary students learn geography through map based quizzes.
Mental Health Resources
PBS Learning Media:

PBS Media separates their lessons by grade level, discussing aspects of personal, mental and emotional health with a variety of resources to teach the importance of these subjects. They encourage youth to make positive choices for their mental and physical health.
Additional Helpful Resources for Educators and Families:
A couple of other helpful guides we've found online to help educators and families with free at-home learning:
Mr. Malone's At-home Learning: A suggested schedule and list of resources and guidance for families continuing to support virtual learning. It's recommended for Upper Elementary and Middle Grades. We love the morning mindfulness and journaling activity to help students reflect on how they are feeling throughout this experience. Check it out here.
Khan Academy Student Schedules: In addition to offering amazing free resources, Khan Academy has put together schedules that are meant to be templates for you to adopt, copy or modify to better suit the needs of your children, classroom or district. Access the file here.