Teacher Appreciation Week is the perfect time to show your appreciation for the hardworking teachers who go above and beyond for their students. This year, why not celebrate by focusing on social emotional learning (SEL)? Below are six ways to show your appreciation for teachers, while simulataneously promoting SEL in your school community 🎉
1. Write Thank-You Notes 💌
Teachers work tirelessly to create a positive and supportive learning environment for their students. Show your appreciation by writing thank-you notes to your teachers. Encourage your students to do the same! In the note, express your gratitude for the teacher's hard work and dedication. You can also mention specific things that the teacher does that make a difference in the lives of their students. Feel free to use Peekapak's template here.
2. Provide Professional Development Opportunities
Teachers are lifelong learners who reflect and research ways to improve their craft. Offer a variety of professional development opportunities on topics they are passionate about. These can be in the form of workshops, seminars, or even online courses. By providing opportunities for teachers to learn more about SEL, you are not only showing your appreciation for their hard work, but also helping them improve their teaching skills. Interested in SEL professional development? Join our next SEL Summit or learn about Peekapak's PD here.
3. Create a Teacher Appreciation Video 📹
Create a video featuring students, caregivers, and school staff sharing their appreciation for teachers. You can share this video on social media, the school website, or during a school assembly.
4. Teacher Spotlights 🔦
Highlight different teachers each day during teacher appreciation week. Share their picture, a brief bio, and some fun facts about them. You can do this on a bulletin board, on social media or through email! This will help the school community get to know the teachers better and show their appreciation.
5. Organize a Teacher Appreciation Week Assembly 👩🏽‍🎓
Organize an assembly to celebrate Teacher Appreciation Week. During the assembly, highlight the hard work and dedication of your teachers. You can also incorporate a social emotional learning component by having students share stories about how their teachers have helped them develop social emotional skills. This will further show teachers how much they are appreciated while also highlighting the important role that they play in promoting SEL.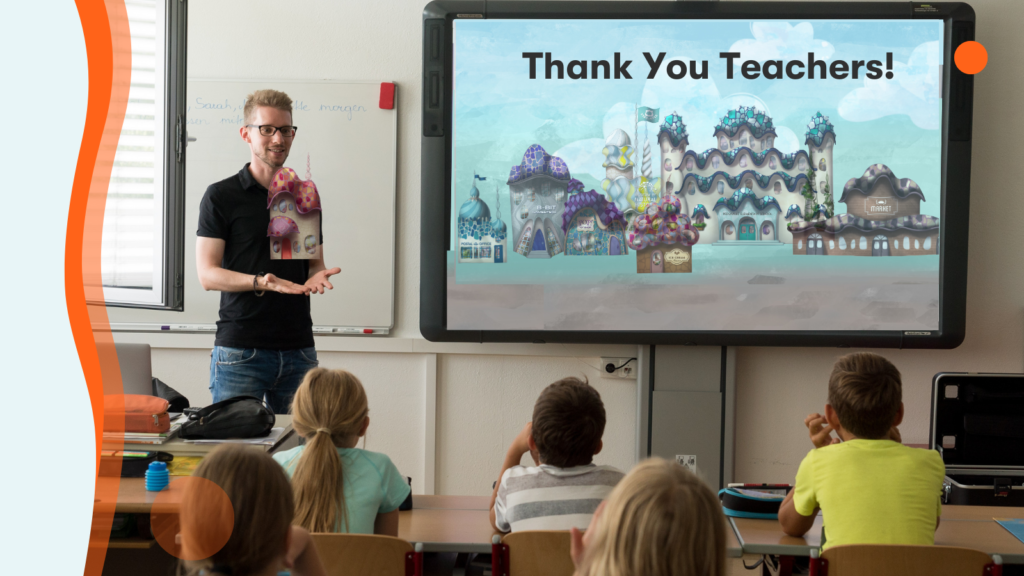 6. Enter Peekapak's Teacher Appreciation Week Giveaway! 🎉
Show appreciation to your teacher by giving them a chance to win an Amazon gift card! Simply:
Follow @peekapak on Twitter
Tag a teacher in the replies and let them know how much they mean to you!
Winner will be selected and contacted on May 9th, 2023. Must reply within 24 hours to claim their prize.
ABOUT PEEKAPAK
Peekapak is committed to helping children become successful, compassionate, caring, and empathetic citizens of the world! How? By teaching children important SEL skills so that topics like gratitude, perseverance, and respect become not just something they hear about, but a part of who they are. They strive to accomplish this by creating a company and a curriculum that makes SEL fun, easy and seamless for teachers, parents and especially children, so that kids learn without even realizing it. Peekapak's learning platform can be implemented in person, online or in hybrid teaching models, providing flexible learning solutions for all school boards. Learn more at peekapak.com