In the ever-evolving landscape of education, the integration of technology has emerged as a catalyst for transformation. Recognizing the immense potential of this dynamic field, an exclusive gathering of visionary minds recently took place in the United Arab Emirates (UAE). Our EdTech Thought Leaders Event brought together pioneers, innovators, and experts from the education and technology sectors, all passionate about reshaping the future of education and fostering student wellbeing. This blog post aims to highlight the key insights, discussions, and shared visions that unfolded during this remarkable event.
We started off by introducing our members of the panel. Our panel included thought leaders such as:
Shaikha Alnuaimi, a member of the innovation team at the Abu Dhabi Early Childhood Authority, gave an opening statement.
Mr. Geraud Loubeyre, Trade Commissioner for the Canadian Embassy, spoke about the embassy's role in supporting startups.
Ami, CEO and founder of Peekapak, introduced and talked about what solutions Peekapak offers and the ways it can be integrated within literacy through social and emotional learning.
The panel of speakers were then asked questions on topics relative to social emotional development found within the region and globally. The speakers included:
Dr. Anna Dillon, Associate Professor at Emirates College for Advanced Education
Anup Namboodiri, Data Insights Lead at the Abu Dhabi Early Childhood Authority
Shaikha Alnuaimi, Trends & Innovation Specialist at the Abu Dhabi Early Childhood Authority and;
Laura Cepek, Vice Principal & SEN Coordinator at Maplewood Canadian International School.
Each of the speakers shared their input based on their various expertise to help bring more awareness to current trends and the ways in which well being is becoming a priority for school leaders.
Dr. Anna Dillon spoke of the importance of including literature that can be meaningful for children to read and help them develop their social and emotional skills.
Anup and Shaikha from the Abu Dhabi Early Childhood Authority emphasized the need for personalized education, which goes hand in hand with what Peekapak along with other innovative educational startups are trying to offer. During the discussion about addressing wellbeing in the school as a whole, Laura mentioned that Peekapk will help students improve their wellbeing in an authentic and holistic way.
The attendees were invited to continue the discussion with one another to help keep the conversation going and to share their thoughts as well as their needs. The EdTech Thought Leaders Event in the UAE ignited conversations and collaborations that will shape the future of education and student wellbeing. The shared visions and expertise of thought leaders from the EdTech space revealed a commitment to innovation and transformation, ensuring that education becomes more accessible, inclusive, and empowering for all learners. As we move forward, the insights gained from this event will guide policymakers, educators, and technologists in reimagining education, harnessing the power of technology, and nurturing the holistic development of every student in the UAE and beyond.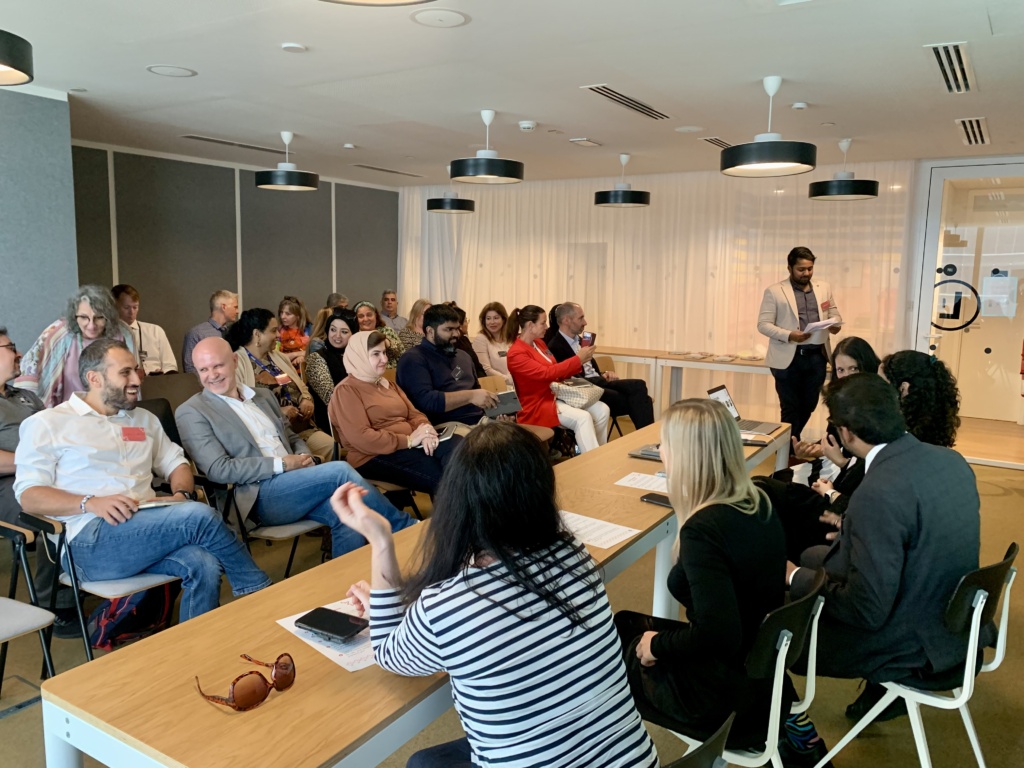 ABOUT PEEKAPAK
Peekapak is committed to helping children become successful, compassionate, caring, and empathetic citizens of the world! How? By teaching children important SEL skills so that topics like gratitude, perseverance, and respect become not just something they hear about, but a part of who they are. They strive to accomplish this by creating a company and a curriculum that makes SEL fun, easy and seamless for teachers, parents and especially children, so that kids learn without even realizing it. Peekapak's learning platform can be implemented in person, online or in hybrid teaching models, providing flexible learning solutions for all school boards. Learn more at peekapak.com