Persevering Through the End of The School Year
As the 2021-2022 school year is wrapping up, it is important to reflect back on how you have persevered through the many challenges and obstacles that you may have faced. By discussing what perseverance means in the classroom, it helps students:
Understand how to accomplish and achieve goals
See that failure is okay, and that you just have to get back up and try again
Remove the expectations for immediate results
Learn to manage their emotions as they struggle with different tasks.
Realize that the amount of effort they put into a task aligns with the better results
Through these key learnings on perseverance, we here at Peekapak believe that the end of the school year is the perfect time to cement these lessons through our #Perseverance2022 Challenge.
How to Enter
The Peekapak Team is inviting you and your classroom to join us in our #Perseverance2022 Challenge and encourages you to learn more about how we can show perseverance throughout the rest of the school year. There are three simple steps to the challenge:
1. Read The Peekapak Pals and the Sounds of Music from our Perseverance Unit & discuss the story with your class.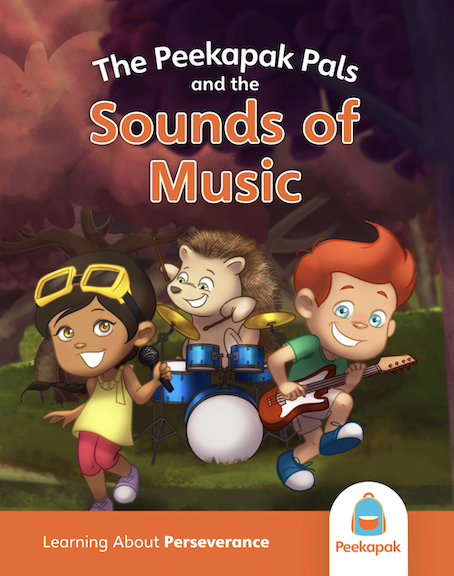 Perseverance is being steadily persistent and willing to continue on with a task or goal despite challenges or a delay in achieving success. Peekapak's perseverance unit is all about helping students learn how to set goals, overcome obstacles and have a growth mindset. In The Peekapak Pals and the Sounds of Music (found on peekapak.com), students learn how different characters in the story reach their goals.
2. With your class, create a story about Perseverance.
This perseverance story can be made up or something someone has actually experienced. We encourage you to be creative! It can be in any form you'd like – short written stories, plays, comics, videos, animations, or a picture board are all accepted.
Get your students' creative juices flowing by having them create their own story of perseverance using their favourite Peekapak Pals. Click here for printable images of the Peekapak Pals and backgrounds!
3. Share your class' story with us!
Share your Perseverance story with us through social media (Twitter, Instagram or Facebook) or email us at hello@peekapak.com to join the challenge and gain an entry for a fun prize!
We'll be sharing your classroom's creations on social media to celebrate moments of perseverance in our Peekapak community. Every story sent to us with the hashtag #Perseverance2022 and @Peekapak tagged, will win one entry into a special raffle for one of three $50 Amazon Gift cards.
Every retweet or person tagged on your post will give you a bonus entry for the raffle!
Deadline
All submissions for Peekapak's Perseverance Challenge must be sent in by April 25th, 2022, after which will be randomly selecting and announcing three winners of our challenge!
Citations
Science & Literacy. (2021, August 6). Teaching perseverance to elementary students – 7 great tips. Science and Literacy. Retrieved April 4, 2022, from https://scienceandliteracy.org/teaching-perseverance-to-elementary-students/