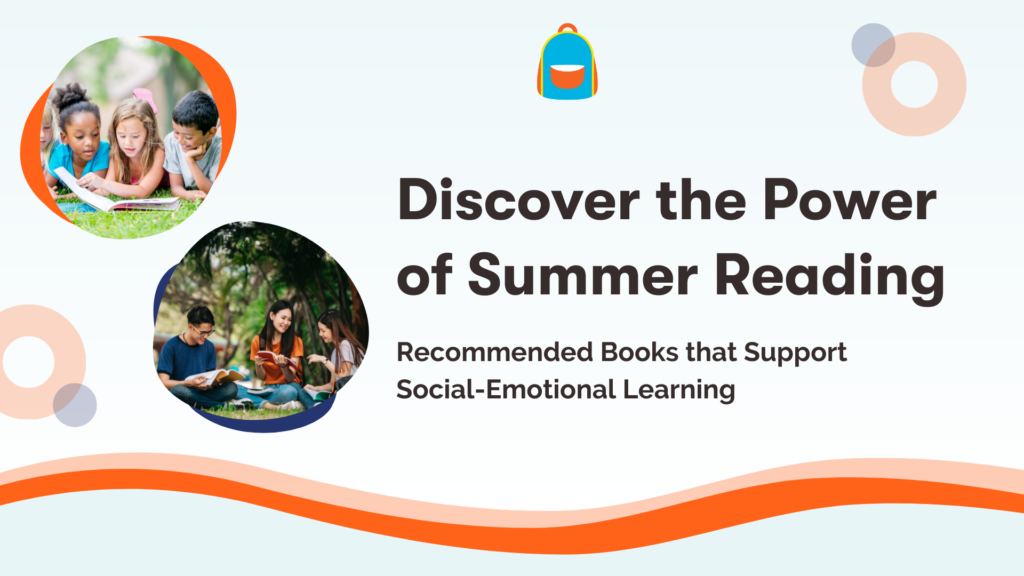 Summer is a magical time when young minds can embark on extraordinary adventures through the pages of books. While reading is often celebrated for its academic benefits, it also plays a significant role in supporting social-emotional learning (SEL). In this blog post, we'll explore the profound connection between reading and SEL, highlighting how books can foster empathy, deepen understanding of emotions, nurture character development, and provide strategies and book recommendations to encourage a summer of joyful reading.
Empathy: Stepping into Others' Shoes
Books are gateways to different worlds and perspectives, allowing readers to step into the shoes of a diverse range of characters. Through engaging narratives, children are able to encounter unique life experiences, new cultures, and challenges. This immersion helps cultivate empathy, as it helps children develop a greater understanding of others' thoughts, feelings, and circumstances. A study conducted by Canadian psychologist Keith Oatley discovered that students who read more fiction or non-fiction books exhibited clearer signs of empathy, compassion and social cognition than those who did not read books at all (Hammond, 2019).
Recommended Books:
Preschool to Grade 2 (PK-2): "Empathy" by Peekapak, "The Day You Begin" by Jacqueline Woodson, "Strictly No Elephants" by Lisa Mantchev, and "Last Stop on Market Street" by Matt de la Peña.
Grades 3-6: "Wonder" by R.J. Palacio, "Out of My Mind" by Sharon M. Draper, and "Fish in a Tree" by Lynda Mullaly Hunt.
Grades 7-9: "The Giver" by Lois Lowry, "Refugee" by Alan Gratz, and "The Hate U Give" by Angie Thomas.
Grades 10-12: "To Kill a Mockingbird" by Harper Lee, "The Book Thief" by Markus Zusak, and "The Fault in Our Stars" by John Green.
2. Understanding Emotions: The Power of Storytelling
Books offer rich portrayals of emotions, enabling children to explore and understand their own feelings. Stories often tackle themes like friendship, loss, and resilience, providing readers with relatable experiences. By witnessing characters navigate emotional journeys, children develop emotional intelligence and gain insights into their own emotional landscape. Social scientists and psychologists have found that literature allows us to relate the experiences of the characters we read about to our own lives, helping us better understand ourselves and our own emotions (Beanstack, 2022).
Recommended Books:
PK-2: "Self-Regulation" by Peekapak, "The Way I Feel" by Janan Cain, "The Invisible Boy" by Trudy Ludwig, and "Giraffes Can't Dance" by Giles Andreae.
Grades 3-6: "The Miraculous Journey of Edward Tulane" by Kate DiCamillo, "Inside Out and Back Again" by Thanhha Lai, and "The One and Only Ivan" by Katherine Applegate.
Grades 7-9: "Speak" by Laurie Halse Anderson, "The Absolutely True Diary of a Part-Time Indian" by Sherman Alexie, and "Ghost" by Jason Reynolds.
Grades 10-12: "The Perks of Being a Wallflower" by Stephen Chbosky, "Eleanor & Park" by Rainbow Rowell, and "All the Bright Places" by Jennifer Niven.
3. Character Development: Learning from Inspirational Figures
Books introduce readers to an array of characters with admirable qualities, encouraging them to reflect on their own values and behaviors. Through stories, children are able to witness characters exhibit crucial life skills such as courage, empathy, honesty, and perseverance. These positive role models inspire personal growth and the cultivation of essential character traits. According to recent studies, reading literary fiction can prompt personality changes that lead us to better navigate our own self-development journey and become better versions of ourselves (Djikic, M. & Oatley, K., 2014).
Recommended Books:
PK-2: "The Lion and the Mouse" by Jerry Pinkney, "The Pout-Pout Fish" by Deborah Diesen, and "Rosie Revere, Engineer" by Andrea Beaty.
Grades 3-6: "Matilda" by Roald Dahl, "Holes" by Louis Sachar, and "The Lightning Thief" by Rick Riordan.
Grades 7-9: "The Outsiders" by S.E. Hinton, "A Wrinkle in Time" by Madeleine L'Engle, and "Wonderstruck" by Brian Selznick.
Grades 10-12: "Jane Eyre" by Charlotte Bront
Strategies for Encouraging Summer Reading:
a) Set Reading Goals: Encourage children to set achievable reading goals for the summer, such as finishing a certain number of books or exploring different genres.
b) Create a Reading Nook: Designate a cozy reading nook at home or outdoors where children can retreat with their books and enjoy uninterrupted reading time.
c) Read Aloud: Engage in shared reading experiences by reading aloud to children. This strengthens the bond between reader and listener while fostering a love for stories.
d) Visit Libraries and Bookstores: Explore local libraries and bookstores, allowing children to select books that capture their interest and ignite their curiosity.
e) Incorporate Reading into Daily Routine: Set aside dedicated time for reading each day, such as before bedtime or during quiet afternoons.
Summer reading goes beyond academic development; it nurtures social-emotional growth, empathy, and character development in children. By immersing themselves in the captivating stories found within books, young readers embark on transformative journeys of self-discovery. This summer, let us encourage children to embrace the joy of reading, unlocking the power of storytelling and its remarkable impact on their social-emotional learning.
Happy reading and happy growing!
Sources:
Djikic, M. & Oatley, K. (2014). The Art in Fiction: From Indirect Communication to Changes of the Self. Psychology of Aesthetics Creativity and the Arts. 8. 498-505. 10.1037/a0037999.
Hammond, C. (2019, June 2). Does reading fiction make us better people?. BBC Future. https://www.bbc.com/future/article/20190523-does-reading-fiction-make-us-better-people
Zoobean. (2022, June 30). How reading changes your perspective. Beanstack. https://www.beanstack.com/blog/how-reading-changes-your-perspective#:~:text=Reading%20also%20gives%20us%20a,self%2Dawareness%20and%20emotional%20intelligence